We are pleased to announce that all-female, D.C. based a cappella group, Capital Blend, will make a special appearance at the "Take A Stand' Brunch.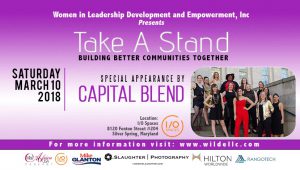 With a motto of "Everything Is Better With Music", there's not a better band we could partner with to perform at the "Take A Stand" brunch than the highly acclaimed Capital Blend.
Capital Blend is an all-female professional a cappella group based in the D.C. area. They are known to perform at professional events, conferences, corporate and non-profit events, as well as weddings and proposals. Among other accomplishments, Capital Blend has released two recorded albums, appeared on the Samantha Bee Show and on multiple radio broadcasts. They were recently recognized for their involvement in the Women's March and the Cherry Blossom Festival.
The women in Capital Blend represent a large number of working professions, who share something in common: a love for a cappella music!
Click on the image below for booking inquiries and to learn more about Capital Blend
Click HERE to register for the "Take A Stand" brunch

To become an Ambassador of WILDE and the "Take A Stand" campaign, click on the image below to order your T-Shirt